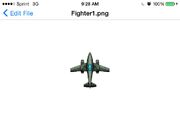 An image is a type of file used with Touch Lua's Graphics screen. You can create images using the draw library's draw.imagesave function.
How to create images
Edit
In Touch Lua version 1.3.1, when using the draw.imagesave function, if you give an invalid file address as the first argument, instead of giving an error, Touch Lua crashes to the home screen.
Ad blocker interference detected!
Wikia is a free-to-use site that makes money from advertising. We have a modified experience for viewers using ad blockers

Wikia is not accessible if you've made further modifications. Remove the custom ad blocker rule(s) and the page will load as expected.